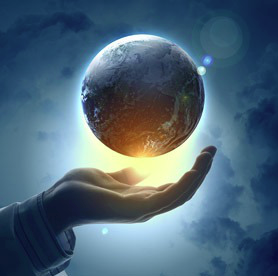 Ова е уникатен план кој мојот соработник  "Кобра" ме замоли да го објавам за www.prepareforchange.net. Првично беше наменет специфично за мене со оглед на индустријата во која се наоѓам, но јас го проширив опсегот и го генерализирав; мојата надеж е дека другите кои се подготвени, можат да ги испробаат своите варијации, без оглед на тоа каде живеат и нивните лични околности.
Примарната цел на овој документ е обид и работа во рамките на постојните структури на моќ, за да се создаде начин за брзо мрежно поврзување низ градовите, државите, регионите, па дури и во државите, така што можеме да се справиме навремено и етички со најбитните прашања. (Забелешка – крајот на овој документ ќе оди во насока што може да биде изненадувачка, но е од најголема важност за нас луѓето да почнеме со работа.) Со оглед на моето искуство, како и на другите во рамките на корпоративните хиерархии, се чини очигледно дека во рамките на било која корпорација, компанија или непрофитабилен субјект, има луѓе кои имаат врски и / или членства во различни групи на афинитети, синдикати, организации за професионална акредитација, па дури и вклучување во локална политика или организации во заедницата, како што се локалните стопански комори. Тие треба да бидат искористени веднаш, за да се соберат што е можно повеќе луѓе, за брзо решавање на непосредните предизвици.
Ова ќе биде неопходно затоа што финансискиот / банкарскиот систем ќе биде затворен некое време. За дополнителни детали, видете го "Краткиот информативен текст за лидерите на заедницата" (http://communityleadersbrief.org) што е подготвен во пресрет на она што информациските инсајдери го нарекоа "Настанот" (The Event), со оглед на долгорочното влијание што ќе го има на планетата. Ве молиме, прочитајте го документот "Краток информативен текст за лидерите на заедницата" во целост, пред да продолжите понатаму, бидејќи тоj поконкретно го опишува она што им е потребно на лидерите нa општините, додека финансискиот / банкарскиот систем е затворен и на крајот рестартиран.
Како што можете да замислите откако ќе го прочитате "Краткиот информативен текст за лидерите на заедницата", она за кое ќе сте сведоци на вестите (веројатно за прв пат) ќе има трајни последици за општеството, за да оди напред. Се очекува дека овие промени ќе резултираат со масовно подобрување на животниот стандард на глобално ниво за сите луѓе, бидејќи ресурсите ќе бидат наменети за создавање и одржување на инфраструктура и институции што на крајот ќе ги елиминираат сиромаштијата, војната и уништувањето на животната средина. Уште позачудувачки ќе биде огромниот број откритија и откривања кои засекогаш ќе го променат начинот на кој ја гледаме одговорноста на владите пред граѓаните.
Но, пред да дојдеме до таа "Ветена земја" на иднината, треба да ја поминеме сегашноста. Остатокот од овој документ ќе се фокусира на краткорочни алатки кои можат да се искористат за да се ублажат сите болки, страдања и целокупната непријатност предизвикана од ваквото масовно ресетирање на владата и финансиските институции.
За да ја илустрирам задачата, подолу вклучив дијаграм за Хиерархијата на потребите на Маслов: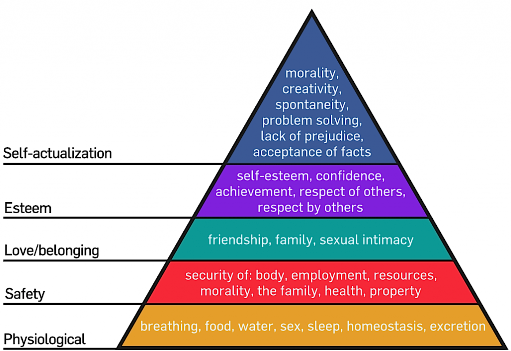 Она што го барам од секој човек да направи е самоанализа во однос на она што е потребно за да останат живи и здрави за време на период кога режимите на трговија, што ние ги земаме здраво за готово, едноставно не функционираат. Додека сите области од пирамидалниот дијаграм погоре ќе стапат во игра во одреден момент, базата ги претставува оние нешта што се најважни за секого. И покрај непријатностите што би биле вклучени, ние треба да ги одржуваме работите. Парите не го одржуваат општеството заедно – луѓето го одржуваат. Сè додека работиме заедно на организиран начин, генијалноста и креативноста својствени за нашиот вид, ќе ни овозможат да дојдеме до решенија. Ништо не е нерешливо, се додека постои учтива и етичка соработка помеѓу клучните носители на одлуки.
За таа цел, еве еден временски распоред за тоа како очекувам работите да се одвиваат во текот на првите денови откако ќе се затвори финансискиот систем и ќе започнат апсењата:
НАСТАНОТ (0-3 часа)  Забележете дека моето сценарио претпоставува дека "почетокот" треба да биде помеѓу 7 и 9 часот наутро, источно стандардно време, бидејќи огромното мнозинство апсења во САД ќе се одвиваат во Њујорк и Вашингтон ДС.). Други големи центри за активности ќе бидат Лондон, Рим, Париз, Брисел и Цирих – но ова е само едуцирана претпоставка од моја страна.)
Луѓето ќе видат дека се случува нешто големо бидејќи ќе се одвиваат масовни апсења, а на вести ќе се соопшти затварањето на банкарскиот систем – тогаш тие ќе сфатат што се случува и ќе се свртат кон промените. За тоа време, секој што е веќе свесен за НАСТАНОТ треба да им се обрати на угледните извршни директори или граѓански лидери и да каже дека има солидно работно сознание за тоа што се случува. Побарајте да се состанете со разни корпоративни и / или граѓански лидери за да ја објасните ситуацијата што е можно појасно; користете ја технологијата во најдобар можен степен и одржувајте конференциски повици или видео конференции каде што тие може да објаснат што се случува и што е веднаш најпотребно.
Во најголема можна мера, вклучете електронски или физички копии на  "Краткиот информативен текст за лидерите на заедницата" (КИЛЗ), како и овој документ. Бидејќи не сме сигурни дали соодветните веб-страници "Prepare for change" ("Подготoвки за промена" ) ќе бидат активни, пред сè поради честата употреба, се препорачува луѓето да симнат копии на нивниот компјутер или телефон и да ги шират овие преземени верзии што е можно побрзо и пошироко. НЕ ГРИЖЕТЕ СЕ за проблемите со авторски права или интелектуална сопственост; тие се наменети да бидат документи од јавен домен, кои се достапни за секого. Колку повеќе луѓе се свесни за тоа што се случува и што е итно потребно, полесно ќе се создадат работни тимови на локално ниво, за да се справат со потребите специфични за широкиот спектар на географски области.
За да ви дадам идеја за она што лично ќе го правам, ги поставив темелите преку низа криптични изјави и разговори кои започнуваат уште од 2012 година со пријателите, семејството и колегите. И покрај фактот дека 99% од овие средби резултираа со тоа што некој ќе ме запрашаше "дали сум со здрав разум", сите тие беа намерно создадени и извршени на таков начин што можам брзо и лесно да им кажам на луѓето кога работите навистина почнуваат да се случуваат:
"Еј, се сеќаваш кога те прашав што мислиш дека ќе се случи хипотетички за време на тоа -и- тоа…? Па, вклучете ги вестите – повеќе не е хипотетички. Еве неколку документи кои сакам да ги испратите на сите што ги познавате. Фокусирајте се прво на оние кои се на постојните лидерски позиции или кои се "говорници". Секој што го познавате и кој е голем озборувач, може да биде од огромна корист во овој момент, затоа што тие можат многу брзо да го рашират тоа на тони луѓе. Направете луѓето да користат пораки, Фејсбук, Твитер, е-пошта – каков било можен медиум за ширење на пораката. Едноставно, гледањето на вестите нема да ги натера луѓето да разберат дека ова е реално; добивањето документи што беа создадени пред да започне овој НАСТАН од пријателите, семејството и колегите, ќе ги натера луѓето да разберат дека ОВА Е МНОГУ РЕАЛНО И Е ОД ИСТОРИСКА ВАЖНОСТ. Ве молиме, помогнете во најголем можен степен."
Once I get some of my friends and family to start their calling/contract trees, my focus will shift to my employer and the vast network of people within my industry:
Initially I plan to have a conference call (which should take roughly 20-30 minutes) with my local site leaders. Once I have briefed them on developments, I would ask to speak to the CEO/CFO/COO and their direct reports – this will be done via conference call as my company's leadership is in a different setting. My hope is that this can all happen without resistance; I am concerned that I may need to have backing from the Positive Military (I.E. WHITE HATS). Given who will be arrested, the higher up the corporate ladder the more likely it will be that these people will actually 'know' some of those being arrested. Be calm and reassuring – if anyone is angry or agitated, appeal to their higher conscience and ethics. Even if someone has actually committed white-collar crimes, this is a chance for complete redemption for anyone willing to help to the greatest degree possible.
I intend to make the gravity of the situation apparent, and stress that this is a time where profits can no longer take precedence. My employer (as do most insurers) likes to promote themselves as a force philanthropically, so I'd like to say that this is the time to back up their P.R. with action.
Encourage a short (15-30 minutes) brain-storming session of next steps. My recommendations:

Let me speak to all employees of the organization. Be consistent with the Community Leaders Brief (CLB) but also add specific actions people can do – contact your city councilperson, utilize networking via the local Chamber of Commerce, utilize your network of friends and family to identify a person in law enforcement or public utilities.
Develop public statements for Executives and/or Civic Leaders to make. These statements must be explicitly clear that there will be full cooperation with any investigations of fraud & wrongdoing, but also that these companies must serve the public interest at this time – which means all employees in departments where operations may be suspended do not lose their jobs, but are rather will be compensated for volunteer time in critical areas (i.e. workers/volunteers to set up food & water banks, setting up public Q&A events where law enforcement and/or other experts can speak, setting up neighborhood watch groups, develop plans for continuity of necessary commerce based upon local needs).
Hire back employees who recently lost their jobs and have them join the workforce in the various humanitarian projects. (Note – This is especially true of any ex-employees who may have experience or connections with non-profits such as food-shelves, meal-delivery services, or past National Guard, Military, Law Enforcement, Emergency Medical Care, or Peace Corps experience. These employees will be the most valuable assets within your company because they can immediately begin networking and creating task forces to deal with pressing community issues.)
For my own industry, I will encourage my company and others to develop tools unique to insurers which may be able to somewhat offset the lack of liquidity due to the banks being shut down (see end of document).
Determine the best way to reach others within the insurance industry so the steps taken by my employer can serve as a model for other companies. Honestly, this can happen for any company or organization – this is the start of the greatest grass-roots organization of volunteers in history. Everyone can help if they set their mind to it and are willing to work in an organized fashion with large groups of people.
After reaching out to executives, my hope would be to begin speaking to employees via video conferencing across the company. I'm not sure if all of them can be reached at one time, but I suspect most could be reached within 2 hours even if we have to break it up into 4 half-hour segments. This can be done for any corporation which has major office presence in multiple cities/states/countries. This is an ideal way to begin to reach community leaders in government, law enforcement, and key infrastructure such as utility maintenance.
During these meetings I will elaborate regarding what I know – more importantly what I DON'T KNOW – and what steps people can take collectively to ensure that this period does not result in a complete societal breakdown (i.e. contacting other leaders – provide CLB via company email). Appeal toward people's aspirations – that this doesn't need to be the end of the world in any sense. Rather, stress that these are the first steps toward a radically more peaceful world, and that we as a species are 'growing up' and becoming more mature. This includes holding people accountable for wrongdoings – such that no one anywhere is above the law. Above all, DO NOT PORTRAY YOURSELF AS AN EXPERT IN ALL THINGS! If you don't know something is factual, make it clear that you have 'an understanding' but not that 'you are a trained and accredited expert'. No single person can or should attempt to be a messiah or PBS-expert on all things like Doris Kearns Goodwin (If you somehow are reading this, DKG, that's meant to be a light-hearted joke in a serious document!). Plans will work best if groups of people collaborate together as opposed to 'going it alone'.
EVENT (3-24 HOURS IN)
Spend the rest of that first day of the reset calling people and coordinating; guidelines would be established – the best persons to contact initially would be friends/family who are in the media, law enforcement, public works, city/county/state government and can quickly spread this information to others.) We want things to spread as quickly as possible – key 'nodes' for transmitting information will be of utmost importance.
The idea is not to sit and discuss 'continuity of business' for your own company. Rather, the goals would be to establish that:
1) Your company intends to become part of the solution as opposed to being part of the problem
2) The leaders of our industry are smart enough to recognize when financial considerations are not as important as ensuring people's safety, peace of mind, and that critical functions such as emergency care, nutritious food, clean food, electricity, communication channels, law enforcement, fire departments, etc. stay running for all people.
Hence every industry should do whatever it can to 'keep the lights on' foremost and worry about the financial repercussions once peace and calm have been established. While I hope my own employer can be held up as a model organization for their efforts and assistance, the idea is that every organization of people can help. This should encourage other companies and organizations to follow suit en masse and build a rapid consensus for business and community leaders to help humanitarian efforts.
This step may take most of the evening and night, because by the next morning there will need to be public announcements regarding the timing of certain humanitarian efforts. It will be critical to establish what must stay functioning – hospitals and clinics, electricity, water/sewage, garbage collection, television, internet, phones – and take decisive steps via announcements as well as visible actions that society will not be allowed to fall apart. This second day will be the most critical, so anyone who can assist in this effort should be prepared to work through the night if at all possible. If we can succeed in keeping the masses calm yet engaged mentally and emotionally, we should be in the clear for the rest of the steps.
EVENT (24 TO 72 HOURS IN)
Once a community, city, state, jurisdiction have established clearly what steps will be taken to maintain critical functioning, the time for action and coordination will come next. These two days will require the largest mobilization of volunteers ever assembled on a global level. There will be a great need for people to help out neighbors, friends, and family, but efforts must be made to reach out to poorer areas as well as to locate and assist the elderly and disabled.
In this step we can hopefully begin the 'Inner-City Marshall Plan'. Instead of allowing supply disruptions to turn these areas into potential flashpoints like Ferguson, Missouri, we can have a coordinated effort to distribute critical supplies and information. If this is done immediately in most areas – and with a large number of brave volunteers and military/militia types – people can be shown directly that this is not "Meet the new boss, same as the old boss".
In addition to these efforts, conversations need to start regarding urban renewal projects:
"Does the infrastructure need repair?"
"Are there are lot of Crystal Meth or Heroin users who need help?"
"Are there problems with violent crime, and what resources are needed to address this permanently and peacefully?"
"Is there a site where a manufacturing plant can be built for local jobs (i.e. Free Energy Devices)?"
Hopefully this will plant the seed for a new era of cooperation. In my home country of the U.S.A., I have often seen selfishness repackaged as 'rugged individualism'. This mindset will not help us move forward. While individual rights will be reasserted, the only way we fix our societies and planet is peaceful cooperation – what we face is too big for small groups to tackle. Big ideas that help hundreds or thousands of people are what we need. Always hold to first principles: "Who needs help most urgently?" "What resources do we have and need to address certain problems?"
PROBLEM-SOLVING ON A SCALE NEVER BEFORE ATTEMPTED 
The previous text is a high-level summary, but successful implementation will require significant attention to the details. Since these will vary across the world, the most important initial step is simply reaching out quickly to corporate executives and civic leaders in communities around the globe. These initial encounters will need to be brief and high-level; we will tell people that this is the beginning of a much-needed overhaul of our banking and political systems, but that we need everyone possible to cooperate in order to minimize adverse impacts. Be ready to provide a CLB as well as other suggestions regarding whom to contact and what steps to take.
In order to maximize effectiveness, stick to a simple and consistent message. Focus first on those people whom you know will be willing to listen. Later on it will be necessary to move on to other organizations, but this is the primary reason to focus on those closest in proximity to you – everyone knows someone who lives far away. The idea is to ask for help and to get it when it comes to spreading the word. The more people spread the CLB, this document, and other key pieces of information the more rapidly coalitions will form in various jurisdictions to deal with immediate concerns.
Once this initial burst of activity to 'spread the word' has occurred during Day 1, then create organized working groups which will coordinate with the military to develop actionable plans. Once these are established, the focus can shift to details, and eventually to solutions both short and long-term. Here are a few ideas which can be quickly established within the first days after the EVENT in almost any community of people:
"Meet & Greets" in which people can gather and have military, law enforcement, local government representatives, etc. come to speak and discuss the most urgent local needs as well as bring food to share via a 'pot-luck'. One model that could be easily adapted across the country would be to use that of National Night Out (http://natw.org) where streets are blocked off (weather-permitting) and people can get together and talk with neighbors about what is going on. These can serve as much-needed 'venting' sessions as well. Many of the revelations and disclosures will be utterly horrifying to people; I've heard of video evidence that is not suitable for children and will likely cause nausea and vomiting. These will not be released publicly prior to the arrests, so I cannot say for myself what these are like. But I've read enough to understand what I will be seeing…there will be a lot of need for hugging and consolation of family/friends. It will be that bad – and the people involved will be shocking as well.
Have community meals – think of the "Stone Soup" story we've all heard as kids. No one person was able to make a tasty meal unto themselves, but once everyone brought a key ingredient, ultimately everyone within that story had a good hot meal for the night. Even if this is not possible every day, this can be a way for everyone to have a solid meal and join together for a night of conversation. These can also function as 'group therapy' sessions so everyone can discuss and come to grips with what's occurring globally.
To the greatest degree possible, be creative in implementing means for businesses to 'keep their doors open' and for supply chains (i.e. producers/manufacturers, wholesalers, retailers) to remain functioning. Even though electronic transaction capabilities will be shut down, there are other mechanisms that which can be used to maintain commerce:

Monitor and prevent 'price gouging' to the greatest degree possible. As an example, during the evening of 9/11 gas prices in my local community went from roughly $1.00 to $6.00. There was a huge panic that set in and cars were lined up for blocks. This needs to swiftly reported and prosecuted lest a chain reaction of profit-seeking behavior cause a complete breakdown of commerce. Especially regarding items people need, prices should remain 'locked' to the greatest extent possible.
Limit hoarding of critical items by restricting how much people can purchase at one time. This is not a situation where these supplies will never again be available…it's just a temporary supply disruption which will be over within a month.
Accept checks, cash, gold, & silver as money for purchasing supplies as debit cards, credit cards, and ATMs will not work.
Any local chamber of commerce can work with community leaders in a given jurisdiction to temporarily implement a "Scrip Currency" (http://en.wikipedia.org/wiki/Scrip) which can be used as a form of credit over the financial shutdown. As long as it is accepted by the vast majority of businesses, to the extent supplies exist commerce can be maintained. This can even be extended toward extension of IOUs for businesses such that supplies can still be shipped and distributed as much as possible.
My understanding is that funds exist such that up to $1,000 of credit can be extended for each person as a means to obtain supplies. This could mean that each community would be given funds in the amount of $1,000 per person which can be used to back any local Scrip currency. This could easily restore confidence on a local level such that businesses feel certain they will receive legitimate compensation for any goods or services they provide.
Lastly, every business that remains open should keep receipts or other documentation should they have the need to recoup lost income. Given that this reset is necessary due to the criminal activities of a small but astronomically wealthy individuals around the globe, there is a very high likelihood that any lost income can be indemnified using the insurance and legal system. The wealth of those individuals will be seized and used to pay damages to those affected. However, given the vast scope of the ensuing investigations and auditing of various money trails, it may not arrive overnight. To this extent, each business will have to weigh the pros and cons of 'staying open. But if you are willing to remain open as a service to your community, it will be better advertising than you could ever purchase.

To the extent a critical mass of commerce cannot be maintained, here are other alternatives to help supplies get where they are most needed.

Local "Swap Meets" can be created as a means to barter and trade for goods and services. This will be necessary given the expected supply disruptions. The vast majority of people will not have the necessary supplies to get through several weeks without buying food or toiletries. Furthermore, it's likely that people who have stocked up will find a few things that they didn't remember to get. These swap meets can be used to trade critical supplies and even services; to the extent that someone needs help with a project, perhaps people can offer a service such as snow removal, yard work, etc. in return for food or toilet paper.
Use existing 'Food Shelf' networks as primary distribution centers of supplies. It is unknown exactly how many 'supplies' have been held aside for this massive operation. My understanding is that a lot exists, but it will need to be moved quickly and efficiently from hitherto secret storehouses to various distribution sites within each country. Again, while I'm focusing on my knowledge of the U.S., this should be applicable everywhere – there need to be gathering places where people are able to obtain critical supplies safely.
If you are someone who would identify oneself as a 'prepper', you probably have supplies for several months or years. I have good news and bad news for you. The bad news – things didn't go to hell like you've been shouting about forever. The good news, you can be a hero in your own community if you are willing to share with others.
This also goes for being willing to teach people useful survival skills such as preparing fires, the identification and gathering of nonconventional but healthy foods, preparation of these foods, and also how to organize neighborhood 'citzen's police forces' to assist the local law enforcement in maintaining civility.
Lastly, if you have an object or supply that you are certain you will not need, be willing to simply give it to another person who actually does need it. This can include simply spending time with people – perhaps one adult will offer to babysit children so other adults are free to work on critical humanitarian projects. Almost every object will be replaceable eventually, and free time will actually exist again as technologies are used to not only expand the workforce but to actually compress the hours any individual needs to work. Ultimately, the most important resources we have as people are each other. We need treat each other with civility and respect as we learn new ways to simply get along and have a functioning society.
IN LIGHT OF THE DISCLOSURES – A PLEA FOR CIVILITY, PATIENCE, AND UNDERSTANDING
Any of you reading this for the first time on this particular day will likely have your heads spinning since the rug has been pulled out from under you. Once you gain your bearings and fully grasp everything that is going on – and everything that has been going on secretly in the past – you will likely be overwhelmed by a sense of grief. Your sense of reality will implode upon itself as everything you've believed to be true will be shattered forever. I know this because it has happened to me at multiple stages of my learning process. This is true of everyone I've encountered – all of those colleagues whom I've never met in person but have forever shaped how I think and feel about the planet I currently live upon.
Once everything 'clicks', there will be a moment when you feel one emotion more intensely than ever before: ANGER
When it hits you – and it will – stop and take a deep breath. This is the moment when every person has to choose how to channel and focus that energy. Do you lash out in a temper tantrum like an angry toddler? Do you crumble to the ground soaked by your own tears? Or do you just sit there – stunned and unable to move?
My recommendation that first time is to let the wave of emotion ride over you, but to do nothing until it subsides. Don't yell, don't scream – don't say anything. Just feel it and let it flow. When you get a chance to calm down, that is when the real work begins.
This may not happen today, my guess is that it will hit everyone differently in the coming weeks given the nearly infinite variety of personalities we humans have. But when the wave hits you again, this time let your emotions flow freely. If you need to stare off blankly into space, if you need to be alone, if you need to cry, feel free to do so. If you need a hug, ask for a hug – even if the only person near you is a complete stranger. We are all brothers and sisters in this strange messed-up reality, and we need to come together as a family to heal.
Part of the healing process will be innumerable publicly televised truth and reconciliation hearings. There's really no other way, because all of the sordid details cannot and should not be hidden away any longer. The media has been under control for so long that it will be difficult to believe the truth when you see it, but instead of viewing the media collectively as an enemy, look at it as a tool that at long last can allow the truth to come to light. This is our group therapy as a planet – this will be how we heal.
As 'impossibly evil' things are shown and proven to be real over and over again, there will be a groundswell building for justice and retribution. There will be a desire for public executions of the worst criminals. My sincere hope is that collectively the populace will exercise caution and proceed slowly on these matters. For starters, I believe a global moratorium should be enacted in all countries on scheduled executions. Seriously, can't we stop having violent death on this planet for at least a few days or weeks!
Let that stop for a while. I honestly believe that certain people who are deemed 'guilty' and were viewed as deserving of capital punishment may end up being key witnesses for some of the crimes against humanity that will come to light. It may even be provable that some are actually innocent, or were at least not in control of their minds at the time they committed their heinous crimes. Look, the 'switch' of the proverbial electric chair can be turned on at any time – but at our current level of technology we cannot undo an execution of a wrongly accused person.
We need to exercise patience and not rush to judgment. I distinctly remember hearing the passionate pleas for revenge after all of the death and chaos of 9/11. People were so angry within the U.S. that they wanted to bomb someone – ANYONE – that very day! Now look at all the pain and suffering that has wrought around the world – was any of it worthwhile or necessary? Are we truly happy and better off with the results? Millions dead, entire countries bereft of modern functioning infrastructure. Hundreds of thousands of angry wounded veterans, and scores of suicides among them due to self-hate, poverty, and being permanently disabled. Trillions spent, wasted, stolen – whatever you want to call it. All of it done because of lies, lies, and more lies.
None of that would have been able to happen had there been a collective 'deep breath' and a grim determination to actually look at the evidence to figure out what really happened as well as who had the motive and means to pull off the entire operation. We were fools then, and it nearly brought the entire world to the brink of World War III. Let's not make the same mistake again. Let's give all willing witnesses and whistleblowers a chance to testify and share their stories. To the extent that previously suppressed evidence comes to light, that evidence needs to be considered and weighed in accordance to other evidence and testimony. People will be coming out of the woodwork for months – finally unafraid to tell their story as they are no longer worried about being killed for what they know.
These voices will need to be heard before we can truly feel that we understand what's happened and who is ultimately responsible. Even those with decades of experience investigating these crimes will be surprised on certain occasions – it's inevitable as part of the process of uncovering the truth. We don't want to resort to the public hysteria of the French Revolution where every nobleman and woman was considered guilty just because of what their status was in society. Let's figure out if some of the good guys (and women) were actually working secretly with the bad guys. For those dealing in the shady world of 'Black Ops', it is hard to walk away completely clean, and it may turn out that someone who is considered 'guilty' initially may end up being viewed as a hero because they prevented a full-out nuclear war that would have caused our ultimate extinction.
Along this same vein, I ask everyone to extend this same degree of patience, understanding and forgiveness to family, friends, co-workers, estranged lovers, political rivals, and ultimately even to complete strangers. Everyone on the planet has been subjected to pressures and influences that have caused us to hurt others – sometimes this has been done consciously, but a lot of it has been 'programmed' into us as well. We need to look at each other differently – not as separate races or sexes, but as fellow humans. We are all reflections of each other. If someone hurt us prior to today, ask them why they chose to say those hurtful words or do that horrible deed.
I'm not talking about egregious things here such as violent assault or cold-blooded murder here, although our understanding of those things will become far more nuanced in the years to come. But right now, I'm referring to examples more about the stressed-out parent who violently explodes at their kid for getting a speeding ticket, or the boss who is so afraid of losing their job that they scheme to falsely blame one of their employees for a key mistake and then justifies firing them instead. Most of us are not 'angels', and many of us have done cruel things to others simply due to a perceived need to maintain one's lifestyle. Fear of losing what we have can drive almost any person to do despicable things, and it is the rare person who can look in the mirror and say they've never done such a thing. Ultimately, we need to take a step back and try to understand each other regarding these most selfish actions; we may find out we are much more able to forgive than we ever thought possible.
As a stark example, even mafia hit men have sometimes committed the most heinous crimes simply to avoid having their loved ones tortured and killed. They got into that particular line of work because they saw a way to take care of their family, and ended up losing their humanity in the process. Sometimes a toxic mix of love and fear can cause us to do horrible things to others. However, after today we no longer have to be afraid. We can be angry, but we no longer have to fear. We can love each other and be loved back in return.
On that note, it's time to get to work and fix our planet, people! Let's do this!
Original article can be found at http://eventreference.org/the-event-plan-to-maintain-the-safety-and-well-being-of-the-populace-during-the-financial-reset/